INTRODUCTION
Plant classification has been a subject of discussion among plant taxonomists and systematists over the years. Plants are classified and reclassified as soon as new evidences arise and this is going to be a continuous exercise over some years to come. Most plants are classified based on external morphological structures such as flowers and fruits. These structures are not always available on plants because they are seasonal in production. Due to this reason, other means of classification need to be involved; one of which is anatomical studies especially of leaves (Davis and Heywood, 1963).
The epidermis is the outer layer of cells covering the leaf. It has several functions: protecting the plants against water loss by transpiration, regulation of gaseous exchange, secretion of metabolic compounds and absorption of water. Most leaves show dorsiventral anatomy: the upper (adaxial) and lower (abaxial) surfaces have somewhat different construction and may serve different functions (Hardie, 2009). It can also be used as taxonomic character delimiting plants. Some characters or features on the epidermis which are useful taxonomically include several differentiated cell types: epidermal cells, subsidiary cells, guard cells and epidermal hairs (i.e., trichomes). These features have been used previously to resolve some taxonomic problems or to contribute to ever increasing taxonomic data base in some genera and even families of plants (Watson, 1964; Van Wyk et al., 1982; Ren et al., 2007; Saheed and Illoh, 2010). Continuity and/or discontinuity of the characters can be used to show relationships and differences between plant taxa within a genus or between families.
Morphologically the Cucurbitaceae are mostly prostrate or climbing herbaceous annuals comprising about 90 genera and 700 species that are further characterized by commonly having 5 angled stems and coiled tendrils. The leaves are alternate and usually palmately 5-lobed or divided; stipules are absent. The flowers are actinomorphic and nearly always unisexual. The perianth has a short to prolonged epigynous zone that bears a calyx of 3-6 segments or lobes and 3-6 petals or more frequently a 3-6-lobed sympetalous corolla. The androecium is highly variable, consisting of basically 5 distinct to completely connate stamens that frequently are twisted, folded or reduced in number. The gynoecium consists of a single compound pistil of 2-5 carpels, generally with one style and as many style branches or major stigma lobes as carpels and an inferior ovary with one locule and usually numerous ovules on 2-5 parietal placentae or 3 locules with numerous ovules on axile placentae. The fruit is a type of berry called a pepo (Jeffrey, 1962).
To complement the above morphological description, leaves of fourteen species in three plant families namely Cucurbitaceae were studied anatomically to elucidate their taxonomic potentials with aim of using features such as stomata, epidermal cells and trichomes to diagnose and classify various taxa in the family.
MATERIALS AND METHODS
Leaves of 14 species of Cucurbitaceae family were harvested for anatomical study. Leaf cuticles were macerated in concentrated nitric acid or trioxonitrate (v) acid, rinsed in distilled water, stained in 1% aqueous safranin solution and mounted in dilute glycerine. Parameters on stomata determined were stomatal density, stomatal index and stomatal size (Dilcher, 1974) and frequency of each complex type was expressed as percentage occurrence of such complex type based on all occurrences (Obiremi and Oladele, 2001). Epidermal cell size was determined as product of length and breadth of a cell based on a sample size of 35. Index of similarity of leaf surface followed the formula of Philips (1959). Statistical analysis of data consisted of Analysis of Variance and Duncan Multiple Range Test (Duncan, 1955).
RESULTS
The 14 species studied can be categorized into 2 groups namely (1) those in which stomata are absent on the adaxial epidermis or occur on abaxial surface only. These include Cocccinia barteri, Coccinia grandis, Cucumis sativus, Momordica charantia, Telfaria occidentalis and Trichosanthes cucumerina and (2) those in which stomata occur on both adaxial and abaxial leaf surfaces. These include Citrullus lanatus, Citrullus colocynthis, Cucumis melo, Lagenaria breviflorus, Lagenaria siceraria, Luffa acutangula, Luffa cylindrica and Momordica foetida. Six types of stomatal complex were observed in the family. These are namely paracytic, diacytic, anisocytic, actinocytic, cyclocytic, staurocytic (Fig. 1, Table 1). All of them occur with a frequency of 100. The range of stomatal density was from 17.57 mm-2 in Momordica foetida to 870 mm-2 in Cucumis melo. Stomatal size also varied from 10.00 μm2 in Cucumis melo to 64.00 μm2 in Trichosanthes cucumerina (Table 1). The pattern of anticlinal wall, epidermal cell shape, epidermal cell size and distribution of trichomes are as indicated in Table 2 and 3.
Cucumis melo stands out as a species with high stomatal density of 800 mm-2 and above on both leaf surfaces possibly due to the small size of the stomata while Cucumis sativus has a low stomatal density of 45 mm-2 and stomata occurring on the abaxial leaf surface only. Momordica foetida has stomata on both leaf surfaces while Momordica charantia has stomata on abaxial surface only.
Table 1: List of the plant species studied
Table 2: Leaf epidermal features in some selected members of cucurbitaceae
Means with same letters are not significantly different at p<0.05
Table 3: Stomatal and trichome features in some selected members of Cucurbitaceae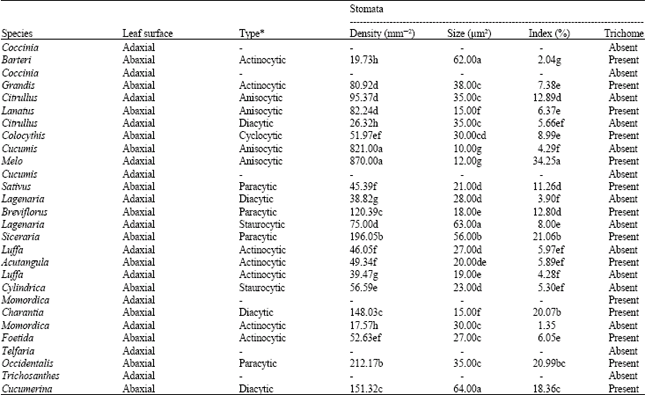 Means with same letters are not significantly different at p<0.05
Lagenaria breviflorus is characterized by paracytic and diacytic stomata and Lagenaria siceraria by paracytic and staurocytic stomata. Telfairia occidentalis is characterized by paracytic stomata and Trichosanthes cucumerina by diacytic stomata.
Indented dichotomous taxonomic key is hereby constructed to assist in the process of plant identification using anatomicalfeatures: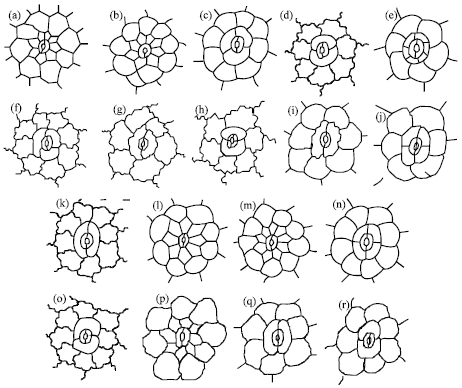 Fig. 1: Leaf surface view of (a) Coccinia barteri showing actinocytic stoma, (b) Coccinia grandis showing actinocytic stoma, (c) Citrullus lanatus showing anisocytic stoma, (d) Citrullus colocynthis showing diacytic and cyclocytic stomata, (e) adaxial, (f) abaxial, Cucumis melo anisocytic stoma, (g) Cucumis sativus showing paracytic stoma, (h) Lagenaria breviflorus showing diacytic and paracytic stomata, (i) adaxial, (j ) abaxial), Lagenaria siceraria showing staurocytic and paracytic stomata, (k) adaxial, (l) abaxial), Luffa acutangula actinocytic stoma, (m) Luffa cylindrica showing actinocytic and staurocytic stomatam, (n) adaxial, (o) abaxial), Momordica charantia showing diacytic stoma, (p) Momordica foetida showing actinocytic stoma, (q) Telfairia occidentalis paracytic stoma and (r) Trichosanthes cucumerina showing diacytic stoma
DISCUSSION
Anatomical evidences observed in the 14 species of the family Cucurbitaceae (Table 1) seems to be enough diagnostic values for delimiting species and genera studied. Plant anatomy has been found to be very essential in plant taxonomy; the purpose is to develop a system of classifying plants in a way that all the differences and similarities are set out in ordered manner (Olorode, 1984). In spite of the fact that vegetative and floral characters are markedly modified in relation to the habitat and pollination mechanisms, the preceding observation and the summaries of character variation in Table 2 indicated that the taxonomic application of the diversity of epidermal morphology in Cucurbitaceae cannot be over emphasized. The decision to choice epidermal characters for this study was informed by earlier declaration that these characters represented genetic variations and have been used to solve taxonomic problems in certain other plant groups by taxonomists (Srivastava, 1978; Oladele, 1990; Adegbite, 1995; Nwokeocha, 1996; Ogunkunle and Oladele, 1997; Ogunkunle and Oladele, 2008; Abdulrahaman and Oladele, 2010a; Abdulrahaman and Oladele, 2010b).
It is worth note the presence of curved ACWPs on both leaf surfaces of L. acutangula and L. cylindrica. The ECWSs are polygonal on both leaf surfaces in all 14 species of Cucurbitaceae except in C. barteri, C. sativus, L. breviforus and M. charantia and in C. melo, L. siceraria and T. cucumerina where, they are irregular on one surface and on both surfaces respectively (Table 3). The SD in Cucurbitaceae was very large in C. melo (821 and 870) on both leaf surfacesand smaller in M. foetida (17.57 μm) in adaxial surface (Table 3).
Trichome is another taxonomic significance feature in the species of the three families. Occurrences of trichomes on the abaxial surface of all the species may support the claim that trichomes themselves transpire. According to Shields (1950), living trichomes which themselves lose water do not protect the plants from excessive transpiration as do dead trichomes which form protective layers. Similar observation was made in two species of Jatropha by Abdulrahaman (2009) where, J. gossypifolia with high trichome density and index transpired faster than J. curcas which possessed lower trichome density and index.
Stomatal frequency varies from one leaf to the other and these were observed among the species in the family studied. Homogeneous nature of stomatal complex type on leaves of the species of Cucurbitaceae is responsible for 100% occurrence of Stomatal Complex Types (SCTs) where, a single SCT present on a leaf surface. Stomatal Density (SD) according to Esau (1977) was found to vary from one plant to another. All species of Cucurbitaceae studied possessed more SD in the abaxial surface than in the adaxial surface. This pattern is in corroboration with Oyeleke et al. (2004), Abdulrahaman (2009), Abdulrahaman and Oladele (2009) and Saadu et al. (2009). SI and SS are higher (ranging from 22.73-26.91%) and larger in the abaxial surface than in the adaxial surface in most species of Cucurbitaceae where, stomata occurred on both surfaces of leaves (Table 3). According to Esau (1965), stomata index varied on different part of the leaves or on different leaves of same plants. While Davis and Heywood (1963) considered stomatal size to be too variable as diagnostic features other researchers like Wilkinson (1971) had contrary view. He indicated that stomatal size shows a much wider range in some taxa than in others, as it may be sometimes be useful as diagnostic character when dealing with taxa in which size ranges are restricted. This present study conforms to Wilkinson's observation.
The above leaf epidermal features could be said to be taxonomically significant because of discontinuities that occurred within and between genus, genera within the family as shown on Table 2 and 3 and Fig. 1. The leaf epidermal features observed in all the fourteen species of Cucurbitaceae are enough taxonomic characters which could be implored to support hitherto external morphological characters used to classify plants in this family.
CONCLUSION
Based on epidermal features, some members of the family Cucurbitaceae can readily be distinguished from one another. Such epidermal features as on stomata and trichomes are thus useful tools for diagnostic and taxonomic works. The approach can be put to use in herbal medicine and forensic science where, identification and authentication of plant specimens are essential.
REFERENCES
AbdulRahaman, A.A. and F.A. Oladele, 2010. Leaf micromorphology of some Amaranthus. Nig. J. Pure Applied Sci., 23: 2136-2143.

Abdulrahaman, A.A. and F.A. Oladele, 2009. Stomatal features and humidification potentials of Borassus aethiopum, Oreodoxa regia and Cocos nucifera. Afr. J. Plant Sci., 3: 59-63

Abdulrahaman, A.A. and F.A. Oladele, 2010. Stomatal complex types and epidermal cells in Jatropha species L. (Euphorbiaceae). Nig. J. Pure Applied Sci., 23: 2160-2163

Abdulrahaman, A.A., 2009. Morphological and epidermal adaptations to water stress in some ornamental plant species. Ph.D. Thesis, University of Ilorin, Ilorin, Nigeria.

Adegbite, A.E., 1995. Leaf epidermal studies in three Nigerian species of aspilia (Heliantheae – Asteraceae) and two hybrids. Nig. J. Bot., 8: 25-33.

Davis, P.A. and V.H. Heywood, 1963. Principle of Angiosperm Taxonomy. Oliver and Boyd, Edinburgh, pp: 210-230.

Dilcher, D.L., 1974. Approaches to the identification of angiosperm leaf remains. Bot. Rev., 40: 1-157

Duncan, D.B., 1955. Multiple range and multiple F tests. Biometrics, 11: 1-42

Esau, K., 1965. Plant Anatomy. 2nd Edn., John Wiley and Sons, New York, USA.

Esau, K., 1977. Anatomy of Seed Plants. 3rd Edn., John Wiley and Sons, Inc., New York, pp: 44-88.

Hardie, J., 2009. Autum leaves seen through herbivour eye. Proc. Royal Soc. Biol. Sci., 276: 121-127

Jeffrey, C., 1962. Notes on Cucurbitaceae, including a proposed new classification of the family. Kew Bull., 15: 337-371

Nwokeocha, C.C., 1996. Foliar epidermal studies in Oryza punctata. Nig. J. Bot., 9: 49-58.

Obiremi, E.O. and F.A. Oladele, 2001. Water conserving stomatal system in selected Citrus species. S. Afr. J. Bot., 67: 258-260

Ogunkunle, A.T.J. and F.A. Oladele, 1997. Stomatal complex types in some Nigerian species of Ocimum Hyptis and Tinnea. Biosci. Res. Commun., 9: 93-100.

Ogunkunle, A.T.J. and F.A. Oladele, 2008. Leaf epidermal studies in some Nigerian species of Ficus L. (Moraceae). Plant Syst. Evolution, 274: 209-221.

Oladele, F.A., 1990. Leaf epidermal features in Vernonia amygdalina and V. cinerea. Nig. J. Bot., 3: 71-77.

Olorode, O., 1984. Taxonomy of West African Flowering Plants. Longman Publishing Company, New York, pp: 25-32.

Oyeleke, M.O., A.A. Abdulrahaman and F.A. Oladele, 2004. Stomatal anatomy and transpiration rate in some afforestation tree species. NISEB J., 4: 83-90.

Philips, E.A., 1959. Method of Vegetation Study. Henry Holt and Co. Inc., New York, USA., pp: 107.

Ren, B., X.Y. Zhu and Y.C. Jlang, 2007. Systematic significance of leaf epidermal features in Apios and Cochlianthus (Leguminosae). Acta Phytotaxonomical Sinica, 45: 274-284

Saadu, R.O., A.A. Abdulrahaman and F.A. Oladele, 2009. Stomatal complex types and humidification potential of some root tuber species. Afr. J. Plant Sci., 3: 107-112

Saheed, S.F. and H.C. Illoh, 2010. A taxonomic study of some species in Cassiinae (Leguminosae) using leaf epidermal characters. Not. Bot. hort. Agrobot., 38: 21-27

Shields, L.M., 1950. Leaf xeromorphy as related to physiological and structural influences. Bot. Rev., 16: 399-447

Srivastava, A.K., 1978. Study of leaf epidermis in the genus Digitaria rich (Gramineae). J. Indian Bot. Soc., 37: 155-160.

Van Wyk, A.E., P.J. Robbertse and P.D.F. Kok, 1982. The genus Eugenia L. (Myrtaceae) in Southern Africa: The structure and taxonomic value of stomata. Bot. J. Linn. Soc., 84: 41-56

Watson, L., 1964. The taxonomic significance of certain anatomical observation on Ericaceae. New Phytologist, 63: 274-280

Wilkinson, H.P., 1971. Leaf anatomy of various anacardiaceae. Ph.D. Thesis, University of London.